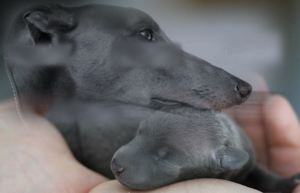 The greyhound racing business model relies on the overbreeding of greyhounds and the discarding of dogs that aren't fast enough or are no longer profitable.
Nationally, the racing industry is breeding six times the number of dogs it can rehome via its state-based rehoming groups (GAPs).
CPG research, a GAPing whole in the industry
Whole of life tracking is the only way to protect young, healthy greyhounds from unnecessary euthanasia. To be effective, it must track greyhounds for the whole of their natural life including:
birth to death record-keeping, not tracking a dog merely while it is actively engaged in racing, and
tracking all greyhound pups, whether they are named and/or micro-chipped.
State governments allow loopholes in tracking systems because they:
recognise that the industry could not continue without the "wastage" of unwanted dogs,
benefit from the millions of dollars in betting tax generated by the industry, and
are heavily influenced by vested interests including the gambling industry.
CPG believes tracking records should be made public with privacy data for industry participants redacted. Why?
 Millions of taxpayer dollars
 are given to the racing industry by state governments, so this is publicly funded data.
CPG is concerned that untracked dogs may end up as bait animals for dog fighting rings, for veterinary training specimens at universities, or used for terminal blood donations (bled to death) for other dogs.

Whole of life tracking in 2023
No Australian state or territory has implemented whole of life tracking. Where tracking exists it is partial and usually only applies when a dog is considered to be of economic value to the racing industry.
No tracking in NT, SA or Tasmania.
Partial tracking in NSW, QLD VIC and WA as described below.
ACT has banned greyhound racing.
The NSW Government has a partial tracking system announced in 2021 and implemented in 2022. The system is administered by the independent regulator, the Greyhound Welfare and Integrity Commission (GWIC). The NSW Government misleadingly refers to this e-tracking system as whole of life. See discussion here of this 'sham system'.
To date, the government has made no public commitment to future public reporting of e-tracking data findings by GWIC. This is vital for transparency.


The loopholes
Which greyhounds are tracked by the NSW system?
Greyhounds who have been microchipped and are owned by an industry participant.
Note: If there is no contact with a non-racing greyhound for 12 months, the tracking system will push a notice that the owner must present the greyhound for a scan. This includes retired greyhounds, as well as microchipped greyhounds that never raced. This is an improvement and should be acknowledged.
Which greyhounds are not tracked by the NSW system?
Greyhound puppies prior to microchipping.
Retired greyhounds who are rehomed privately to a third party who is not an industry participant. This occurs when an owner or trainer transfers the dog rather than the greyhound being adopted through a recognised agency such as a community-based rescue group or industry rehoming program (GAP). See case study here.
Greyhounds who are sent interstate. The NSW Government has not empowered GWIC to track dogs when they move outside the state.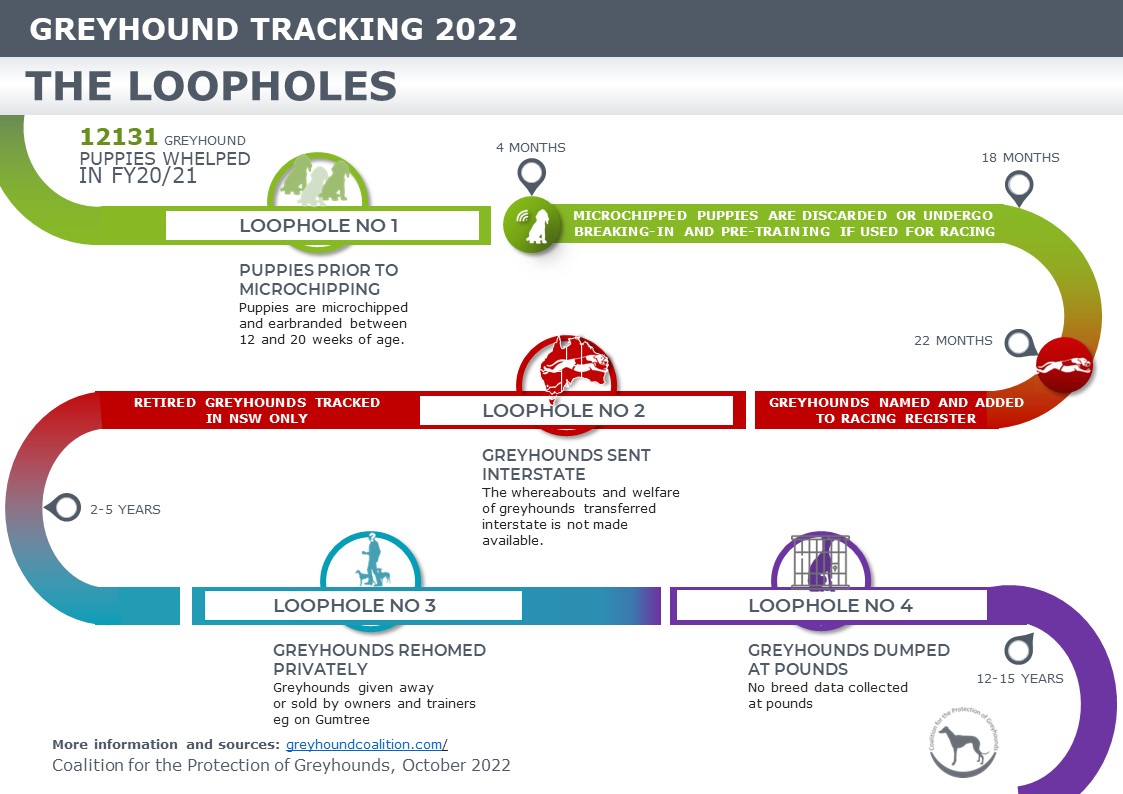 Background on NSW tracking
In 2015, following the exposure of systemic animal cruelty within the greyhound racing industry, the NSW Government appointed a Greyhound Industry Reform Panel.
The Panel's report stated: A new greyhound racing register should be established and managed by the integrity commission to capture the identity and whereabouts of all greyhounds throughout their lifecycle.
This recommendation was accepted by the NSW Government and is central to reforming the industry as it prevents the killing of thousands of greyhounds each year. 
The current system fails to deliver on Greyhound Reform Panel's recommendations, accepted by the NSW Coalition, to implement 'whole of life' tracking.
A partial tracking system including online registration and licensing was introduced by the Queensland Racing Integrity Commission in 2020.
The system is described as providing "holistic greyhound life-cycle tracking". However, as with the NSW system, greyhounds are only tracked from "birth to de-registration".
Similar loopholes also exist in the system including when a greyhound is retired and rehomed privately by its owner. At this point they are not registered on either the racing register or as a companion animal. This means there is no record of the greyhound's whereabouts or wellbeing.
The commercial racing body Greyhound Racing Victoria (GRV) has an unverified system which stops at retirement when a dog finishes its racing career.
As GRV is both the commercial promoter of greyhound racing as well as the supposed regulator, its data is unverified by an independent third party. 
As soon as a greyhound is retired from racing, it is no longer tracked by the self-regulated Racing and Wagering WA (RWWA) even if living with an industry participant.
The only exception is if the dog has been accepted by RWWA's  (Racing and Wagering WA) GAP scheme.
As is typical of commercial racing bodies, RWWA makes claims including: "All racing greyhounds are registered and tracked throughout all stages of their lives, from birth to retirement." Yet, after retirement is when dogs are vulnerable to 'disappearing'.