CPG is running a campaign to let companies know what the community thinks of their support for greyhound racing. This support can be demonstrated through race sponsorships, on-track signage or advertising during greyhound racing programs.
The passion and determination shown by CPG facebook followers in contacting these companies has achieved great results. A number of major Australian and international organisations have cancelled sponsorships and withdrawn advertising. They have been eager to disassociate themselves from greyhound racing and willing to say so. We applaud these companies for acting with integrity and in support of animal welfare.
Below is a snapshot of those companies that have cancelled their sponsorship and companies that are still sponsoring.  Following that is more information on what companies have to say about their opposition to greyhound racing.
Sponsorship cancelled
Sponsorship ongoing
Every few months, Channel 7 broadcasts Thrill of the Chase. This is a greyhound racing program full of industry spin designed to encourage people to view greyhound racing as acceptable. CPG contacted a number of companies whose advertising appeared during the program. We continue to follow up but here are some of the replies we've received to date.
Aussie Broadband
Our TV advertisements appear on a range of stations across Australia, and advertising during these programs does in no way constitute our approval support for the program or its content. We have taken your feedback into consideration and contacted the Seven Network (along with others) to request that our advertisements are not shown during any programming for either greyhound racing or horse racing. If you have any other enquiries, please don't hesitate to reach out – – beautiful greyhounds are very important to us!
Bendigo Bank
You were correct in assuming that we were unaware that our advertisement was broadcast during this program and upon hearing this, we acted immediately to put a stop to ads going to air in these timeslots, for this program. We have put in place specific exclusions on this and other such programs to ensure that this doesn't happen again. Bendigo Bank is committed to ensuring the humane treatment of animals and does not endorse greyhound racing.

Carpet Court
We were unaware that our advertisement had been screened during this program and obviously do not condone such activities. …
Our Corporate Social Responsibility frames an important part of our value set as a brand, which is why your email is important to us. I would like to personally assure you that we have spoken with our media agency to ensure that this does not happen again in the future.

Dettol
We want to let you know that this has been escalated to our Marketing Team and they have already actioned this with the Media Buying Agency to ensure that the Dettol ad is withdrawn from airing during the program.
Lite n' Easy
Thank you for your message and apologies for the delay getting back to you. We will request that this program not be included in any further placement of Lite n' Easy TV commercials.
Pandora
We have contacted our media agency and expressed our concerns – as we certainly do not endorse any activity that compromises the welfare and safety of animals – and we will absolutely seek to ensure that Pandora is not present in this or any such similar programming moving forward, as is our guideline to networks.
RAMS
We are very sorry to have caused offence by airing our ad during this program. RAMS does not support greyhound racing and we will reach out to our media agency to ensure our ads do not air during this program in the future.

Real Insurance
The thoughts and views shared on The Thrill of the Chase are in no way a reflection of the values of Real Insurance. Our media placement is scheduled by time slot and not by program, however as animal lovers we will look into this further with our media buyer.
RSPCA
We have looked into the matter and the insurance company has contacted the media agency responsible to request that RSPCA Pet Insurance ads not be played during this program in the current or future seasons. … To try to avoid this type of negative association, we are looking at whether we are able to 'blacklist' certain programs that conflict with our policies.
Snapfish
We have had our media agency investigate your query and can confirm that our Snapfish purchased or paid media placement did not include any placement within the mentioned program. We suspect that this placement may have occurred due to random bonus spots provided from time to time by the network. We will continue to exclude this type of program from our Snapfish booked media placement and as an additional measure we have requested our media agency to ensure we are not placed on either bonus or filler lists that would see us appearing on this program.
The Smith Family
We actually weren't aware that our ad ran in this show. We do receive a lot of bonus media and sometimes our ad can be placed in shows that we have not specifically requested. After receiving your email we reached out to our media agency to follow up on this and they've confirmed, as you mentioned, that the ad did run during _Thrill of the Chase._ We've since requested that we do not run our ads in this show (paid or bonus) and our Marketing Manager has also requested that we put additional steps in place to avoid our ads running across shows that promote gambling or animal cruelty.
Youi
Thanks for your message – we appreciate you taking the time to share your concerns with us and supporting something so important. Please rest assured Youi does not sponsor or support greyhound racing and we have no desire to be associated with it. Sometimes our 'bonus' television advertisements run at unspecified times, however we have passed your email onto our marketing team that will look into this right away.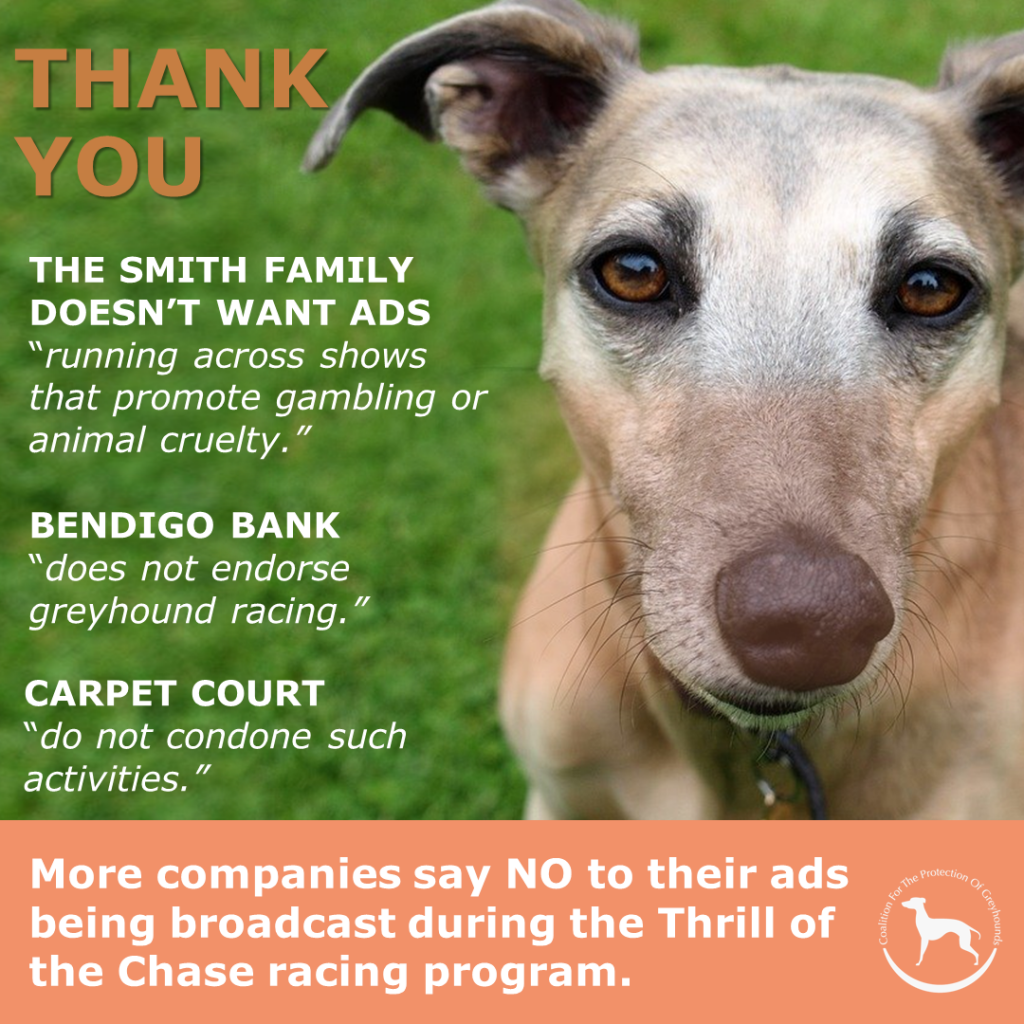 Quest Apartment Hotels were named as a partner on the Greyhound Clubs Australia website
17 July 2020: Thank you for bringing our attention to this. Quest Apartment Hotels has been acting as an accommodation partner for Greyhound Racing Australia by providing a small discount to members. We have never provided financial backing. However, in light of this post and deeper consideration, we have decided to remove our support to Greyhound Clubs Australia and will no longer be providing aid of any nature. Please know, Quest Apartment Hotels does not stand for the mistreatment of animals. We are taking this opportunity to evaluate our partnerships across the board to ensure that our values are properly aligned with those whom we support." 
Logo signs for Hit91.9 Bendigo, Triple M Bendigo, Channel 9 Bendigo, 9Go! Bendigo and 9Gem Bendigo displayed at Bendigo track. The five media channels are also sponsors for race meetings and Triple M Bendigo is the name sponsor of the Bendigo Cup. 
Note: These Bendigo TV and radio channels are owned by Southern Cross Austereo (SCA). All logo signs were removed in early July and as at 19 July 2020 no SCA media channels has sponsored a race meeting. SCA's initial response was:
24 June 2020: "We appreciate your concerns about the greyhound racing industry which has been required to address serious animal welfare issues in recent years.  … Greyhound Racing Victoria's Bendigo Cup event is a significant contributor to Southern Cross Austereo's Give Me 5 for Kids charity.
25 June 2020: I confirm that all trackside advertising in respect of those brands is due to be removed. (Tony Hudson, Head of Legal and Corporate Affairs, SCA)
Jims' Mowing sponsored Geelong Racing Club for six years (this cancellation courtesy of SA independent researcher and writer Matilda Duncan) click here for the full story
26 March 2020: "Our sponsorship has ceased with Greyhound Racing Geelong."
O'Brien Electrical and Plumbing sponsored races at Mount Gambier and Angle Park, SA
13 March 2020: "Our sponsorship policy states we do not support events or organisations that are involved in the cruelty of animals. All sponsorships require head office approval, and no approval has been granted for greyhound racing. Our policy was recently reviewed and it has been communicated with all our franchisees and employees."
Elders Insurance sponsors races at Mandurah, WA
31 March 2020: CPG contacted Elders Insurance as they are once again sponsoring racing.
11 March 2020: "This is not a national Elders Insurance sponsorship. We encourage our local agencies to support their communities through local sponsorship. We are now working very closely with our Distribution Manager in WA as well as the local agent to review this partnership. I can assure you we do take these matters seriously and will continue to review all our agent partnerships." 
GJ Gardner Homes sponsored races at Sale, Victoria
12 March 2020: "While the Franchisee's for this area are actually keen dog lovers, after careful consideration and in light of the negative comments being posted they have ended their sponsorship of this facility. The signage will be removed in due course."
19 July 2020: GJ Gardner Homes continues to sponsor 

Husqvarna was name sponsor of Maitland Gold Cup, NSW
20 March 2020: "Our independent dealer network actively support their local community through donations, sponsorships and partnerships. Our dealers are independently owned and operated, and as such are responsible for their local business decisions on these matters. On this occasion Hunter Outdoor Equipment has entered into a sponsorship agreement with the Maitland Show Ground, as throughout the year this venue hosts a variety of events for the local and surrounding community. We have reached out to our dealer and are working closely with them to adjust the signage to better reflect the local business decision. Please be assured this is not a corporate sponsorship."
Optus sponsored races at Sale, Victoria
12 February 2020: "We have reviewed our agreement with Sale Greyhound Racing Club and have withdrawn our sponsorship."
Volkswagen was the Club Sponsor of Ballarat Greyhound Racing Club
28 January 2020: Volkswagen removes its logo from the Ballarat Racing Club's website and stated, "Volkswagen again emphasises that it has no connection with greyhound racing. Sponsorship of the event at Ballarat was undertaken by the local dealer without our company's knowledge and in contravention of our policy."
Toyota Australia sponsored the Warragul Cup on 9 January 2020
23 January 2020: "Toyota Australia does not and will never sponsor greyhound racing. It does not align with our brand at any level. We have been working closely with the dealership to withdraw their sponsorship of these events."