The greyhound racing industry exists with the support of numerous media outlets.
Note that the Australian Press Council has a set of General Principles that focus on four sets of key values: accuracy and clarity; fairness and balance; privacy and avoidance of harm; integrity and transparency.
Let's see how the racing industry has degraded those values.
ACM pulls greyhound petition story
An article in Long Snouts by Matilda Duncan reveals that Australian Community Media (ACM) pulled a story from the Busselton-Dunsborough Mail in WA on a greyhound racing petition, after pressure from "east coast" management.
Staff can't write about greyhounds any more.
ACM is owned by millionaire Antony Catalano and billionaire Anthony Waislitz. One of Catalano's papers, the Mandurah Mail, sponsors races. ACM owns over a hundred mastheads across Australia, including The Canberra Times, The Newcastle Herald, The Examiner and the Illawarra Mercury.
ACM's partnership with GRNSW
A pro-racing piece in the Illawarra Mercury admits, "This article was produced as part of an ACM partnership with Greyhound Racing NSW".  This admission can be seen in numerous articles that are now popping up in regional papers.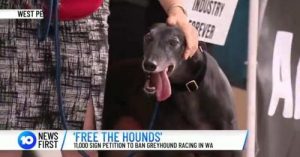 A segment on Media Watch revealed that the supposed author of these articles, Michael Cowley, is actually the PR guy for GRNSW. (Media Watch – greyhounds and ACM)
We'll see if Mr Cowley will write a nice piece about the 44% increase in NSW racing deaths in 2021.
Influence through investment
CPG also came across evidence of more direct influence this year. A regional publication told us the local greyhound club threatened to withdraw advertising if critical articles were published.
The greyhound racing industry doesn't shy away from its influence on the media.
In its 2019/20 annual report, Greyhound Racing NSW boasts of having the media partners News Corp, Nine, and Crocmedia.
For example, the Poetry in Motion marketing campaign enjoyed "editorial integration" of four feature articles with News Corp,  three segments on Nine News, and two segments on Today Show.
Promoting the Greyhounds As Pets program – by using GAP ambassadors – is also used to increase the "brand health of GRNSW and ongoing sustainability of the industry".
The Greyhound Racing Victoria annual report proclaimed stronger partnerships with Channel 7 and 3AW. Regional media partnerships were also strengthened, with investment in "country media outlets".
Millions spent to hide the reality
The GRV annual report for FY19/20 reveals that $2.26m was spent on "marketing and promotions" for clubs, and $4.48m on industry expenses that included "strategic marketing and communications".
At GRNSW, $6.7m was spent on "Media & Digital" for the same period. Note that in 2013, only $1m was spent on "media & content".
And of course, Channel 9 Gem and Channel 7mate have broadcast the unwatchable Thrill of the Chase. And let's not forget the media campaign that overturned the Baird racing ban in NSW.
Various media are still brazenly supporting the industry with sponsorships of races and racetracks.
These include:
Coast FM & 3YB  (Warrnambool VIC)
Bendigo Advertiser (Bendigo VIC)
3BA/Power FM  (Ballarat VIC)
The Weekly Advertiser (Horsham VIC)
Shepparton News (Shepparton VIC)
Mandurah Mail (Mandurah WA)
2LM and ZZZFM (Lismore NSW)
The Mercury (Hobart TAS)
The Examiner (Launceston TAS)
The Advocate (Devonport TAS)
The visible suffering of greyhounds disappears behind a screen of deceptive reporting and articles promoted by the racing industry. A fantasy of dog racing is perpetuated, and the industry survives.
Fortunately, there are many journalists who still have ethics, morals, and a desire to report the truth. But while business influences the media, greyhounds will keep dying.