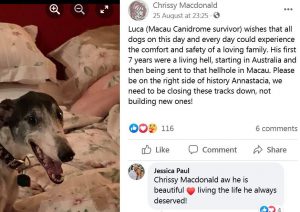 Queensland Premier Annastacia Palaszczuk tried to show her softer side by posting Facebook images of her dog on International Dog Day on 26 August.
But greyhound lovers saw right through it, and unleashed a howl of protest.
The Palaszczuk Government is funding a new $40 million greyhound racing complex near Ipswich, west of Brisbane.
It'll include a curved track, even though 75% of the 111 greyhounds killed racing this year got their injuries at track turns.
Maybe 1000 people commented on Palaszczuk's FB page; around half were greyhound supporters
Later in the day, the Premier thanked people for sending in "pics of your puppers" and highlighted some of the dogs that people had posted in the comments –  no greyhounds were included.
As someone pointedly said: "Where are the greyhounds?"
Well, thanks to Palaszczuk, racing minister Grace Grace, and the state government, the racing greyhounds keep suffering, on and off the tracks.
The latest example: A Queensland rehomer has just rescued almost two dozen greyhounds from a trainer. Rehomers could do so much with some of that $40 million destined for the new track.
And so far this year, 15 greyhounds have been killed and 918 injured in Queensland, with Brisbane's Albion Park ranked as Australia's worst track with 8 deaths.
Image on Latest News shows Annastacia's selection of FB pics – where are the greyhounds?
Image above shows how greyhound lovers responded.