Racetracks are lethal for greyhounds. Deaths and injuries are very common with hundreds of greyhounds killed on Australian tracks each year and thousands injured. See Australian track deaths and injuries for
2020
and
2021
. Racing causes pain, suffering and distress as greyhounds constantly collide, fall and collapse. The racing industry and Australia state governments know  that greyhounds would be safer if they raced on straight tracks and with only 6 dogs per race. Yet governments continue to pour taxpayer dollars into building new and unwanted tracks that do not follow these safety recommendations. Read more about the
optimal track design
 identified by the University of Technology, Sydney. Below is more information on state government support for racing tracks and action that you can take to help stop greyhounds suffering and dying on these lethal tracks.
Across Australia in 2020, 9,861 greyhounds were injured and 202 were killed on race tracks, of which 2,821 injuries and 48 deaths occurred on NSW tracks.
Despite these appalling statistics, a 32 hectare site has been purchased at Chinderah in the Tweed shire to build a new greyhound racing track. It will have one straight track and one circle track.
Yet again, Greyhound Racing NSW ignores their own research  showing greyhound deaths and injuries can be reduced through straight tracks, 6 dog races and the re-positioning of the lure.
Leading animal welfare organisations are running a campaign to stop this track. Please email NSW racing minister Kevin Anderson tamworth@parliament.nsw.gov.au and tell him we don't want any more dog-killing tracks. We will keep you up to date with action you can take. 
In a recent article in the Tweed Valley Weekly, Greyhound Racing NSW "refuted suggestions that its Chinderah track will compromise the welfare of greyhounds". CPG addresses a number of these "facts" in an attempt to set the record straight.
FICTION
FACT
"The facility will be built to the best safety standards in greyhound racing …"

In 2017, University of Technology Sydney (UTS) released a report commissioned by Greyhound Racing NSW (GRNSW).

The number one recommendation by UTS stated, "Clearly the best option is to use only straight tracks." UTS added that the Australian Greyhound Industry should "reconsider their aversion to straight tracks and consider developing purpose-built straight tracks".

Other key recommendations were that the number of greyhounds in each race be reduced from eight to six and that an extended lure be installed at all tracks.

Greyhound Racing NSW has chosen to ignore these recommendations. Straight track racing is conducted on only three Australian tracks and the proposed Tweed track will have one circle track and one straight track. There has been no commitment from GRNSW that only six dog races will be conducted at the Tweed track.

Read more on the industry's failures to address track safety in CPG's research report Lethal Tracks 2020.

"We also now have in place an Injury Rebate Scheme, where GRNSW provides the owner with financial assistance to ensure that a seriously injured greyhound receives appropriate veterinary care and treatment"

Greyhound injury rebate schemes provide inadequate amounts for veterinary treatment and nothing for day-to-day costs like rehabilitation. This means that many industry participants still choose to euthanase young and otherwise healthy greyhounds.

176 or 87% of the greyhounds killed on Australian tracks in 2020 suffered fractured legs. Many of these fractures are repairable at an estimated cost of $4,000. The GRNSW rebate scheme offers only $2,500 (except in exceptional circumstances).

It costs about $4 for the euthanasia drugs to put a greyhound down.

"Our injury rates have decreased dramatically."

According to the most recent industry data the only reduction in injury rates to greyhounds in NSW between Q3 2019 and Q3 2020 was in the minor category (1-10 day stand-down). Injuries in all other categories increased as below:

Medium showed an increase from 161 to 167 (increase in starts per 1000 from 7.9 to 9.1)*

Major I showed an increase from 76 to 86 (increase from 3.7 to 3.9)

Major II showed an increase from 35 to 39 (increase from 1.7 to 1.9)

While the total number of greyhound injuries decreased from 627 to 575, this was wholly driven by the reduction in the Minor category of injuries.

Additionally, in NSW Q4 2019 had the highest racing injury rate of any quarter since injury reporting began in 2016. It eclipsed the previous record set in Q1 2019.

* Rather than arriving at an injury rate by simply dividing the number of individual greyhounds by the number of injuries, the industry counts every greyhound every time it runs. This "per start" injury rate grossly underestimates the risk of injury over a year of racing for the average dog.

In Q3 2019 3,781 individual greyhounds raced on NSW tracks and in Q3 2020 3,862 raced.

Improved "rehoming of greyhounds"

According to industry data, in FY19/20 246 greyhounds were accepted by GAP NSW, the industry-funded adoption program. 373 were accepted by another animal rescue or adoption agency. Most of these agencies are funded by donation only and are run by volunteer workers.

Additionally, 59 greyhounds were euthanased by the industry as being "behaviourally unsuitable" for adoption and 28 were euthanased because "rehoming attempts failed". Private greyhound rescues usually have a 'no kill' policy and take greyhounds rejected by GAP NSW.

According to an article in the Sydney Morning Herald, in 2018, GAP NSW rehomed 415 greyhounds on a budget of $1,639,430, excluding marketing costs of $724,000. That's $3950 per greyhound or nearly $5700 if you include the marketing.

Over the same period, private rehomer Greyhound Rescue on a budget of $250,000, with their no-kill policy, homed 200 dogs, at a cost of $1250 per greyhound.
In July 2020, the City of Sydney Council voted eight to two to demand that the NSW Government "return Wentworth Park to the public".
"It doesn't seem right that so much of Wentworth Park, which sits in the middle of one of the most densely populated neighbourhoods in Australia, is dominated by a greyhound racing track," said Clover Moore, Lord Major of Sydney.
Showing again a total lack of respect for the NSW public, Racing Minister Kevin Anderson responded by saying "Thankfully Clover Moore and the almond latte crew have no say over what happens at Wentworth Park."
The NSW Greyhound, Breeders, Owners & Trainers Association (GBOTA) has a lease at Wentworth Park, a NSW Government-owned asset, through until 2027.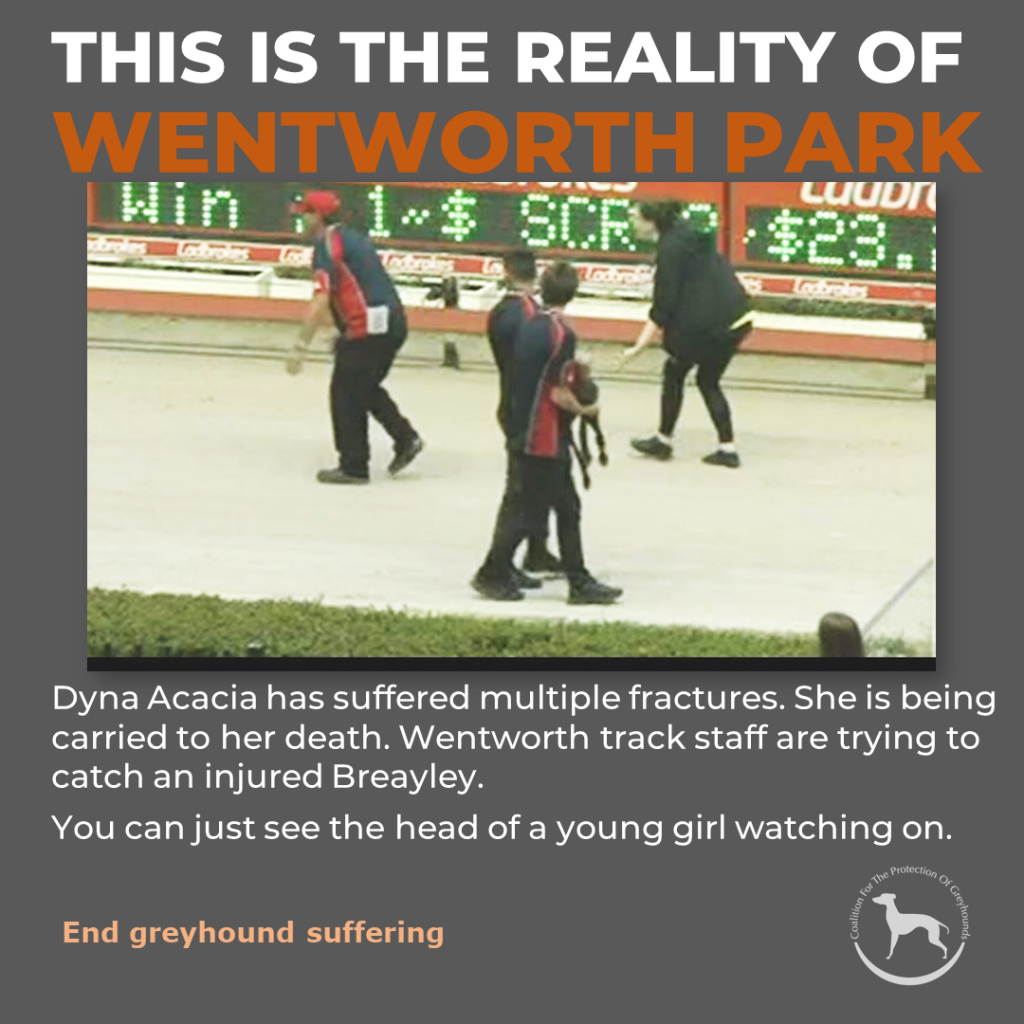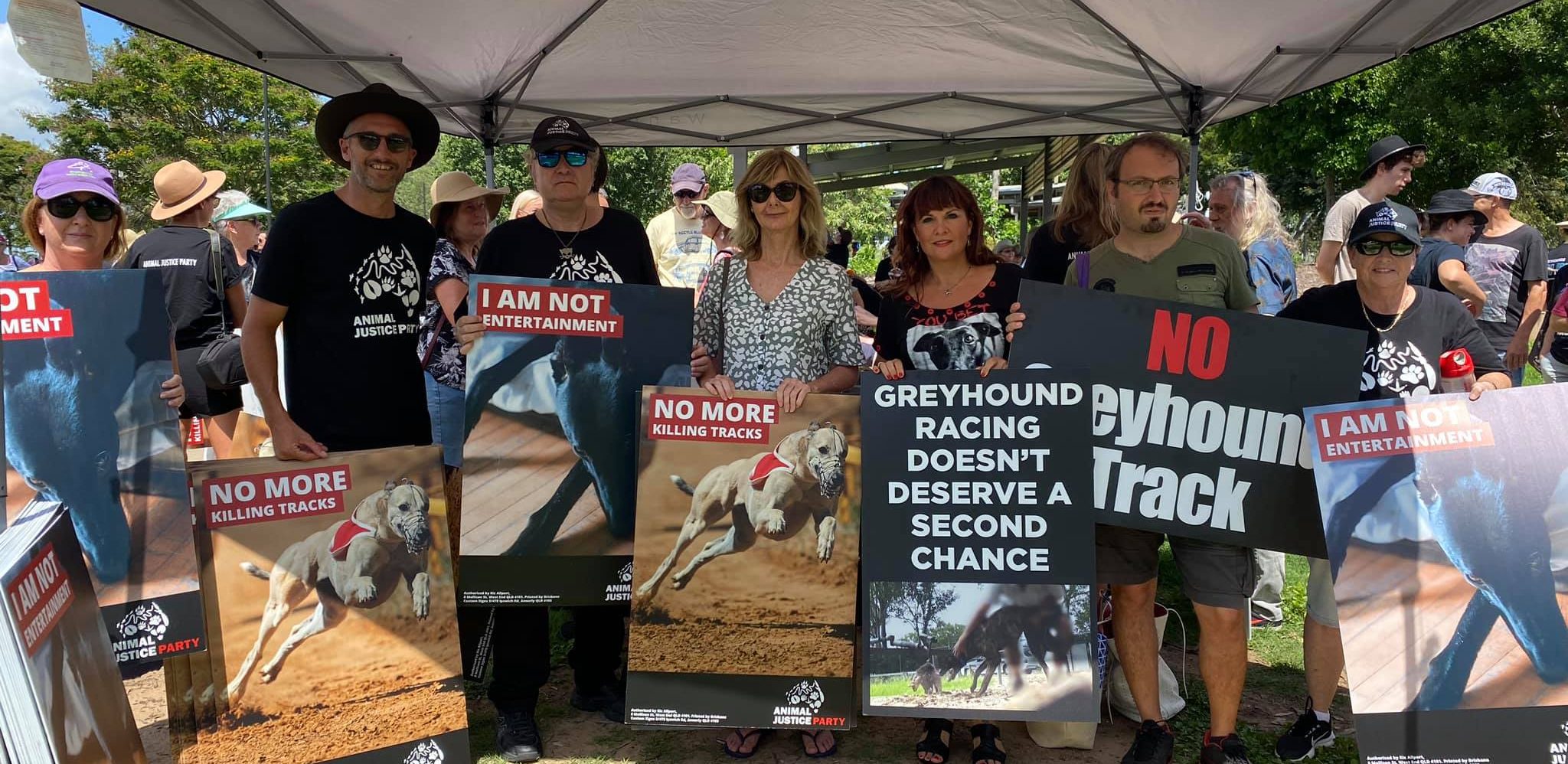 Ipswich Rally on 19 February 2020 co-hosted by Animal Liberation Queensland and Coalition for the Protection of Greyhounds
How you can help stop the track
Running for their lives
The QLD government is planning to build a new $39 million dollar greyhound racing track in Ipswich. Yet again, they are sending the message that animal cruelty and problem gambling is OK by them.
In 2017, after a five-year campaign led by Animal Liberation Queensland, plans for a greyhound track at Logan were scrapped. Together we can stop the Ipswich track and make it a great day for the people of Ipswich and an even better day for the greyhounds.
Why the track must be stopped
69 dogs were killed and more than 1200 injured on Qld tracks in 2019. Australia-wide thousands of greyhounds continue to disappear each year. The Ipswich track will mean more greyhounds whelped, more deaths and more pressure on already overloaded rescue organisations.
Australia is also one of only eight countries in the world with a significant commercial greyhound racing industry. Governments should be eliminating the harms to the community from gambling and to the dogs who die in their thousands in this industry. Instead, the Queensland government is proposing to increase them by using valuable taxpayer funds to prop up a dying, cruel and harmful industry by using valuable land to promote further harm.
Australia has one of the highest rates of gambling in the world. Between 80,000 and 160,000 Australian adults experience significant problems from gambling. We have an escalating and toxic relationship with sports betting. Shockingly, children are a new target for the racing industry as it hosts "Family Fun Days" encouraging children to be the next generation of problem gamblers.
Instead of wasting $39 million on a track why doesn't the QLD government use that money to address escalating mental health problems for children, youth and adults including gambling addiction.
Listen to what Chay Neal of Animal Liberation Queensland and Dr Victoria Sublette of CPG have to say about the disastrous impact the new Ipswich track will have on the lives of greyhounds and the Ipswich community.