The South Australian government is calling for submissions to an Independent Inquiry into the Governance of the Greyhound Racing Industry in South Australia. Submissions close on 29 September and the Inquiry is open to everyone.
All animal lovers were appalled by recent footage showing gentle greyhounds, including puppies, being punched and kicked by an SA trainer.
The SA Premier Peter Malinouskas responded to this brutal treatment by announcing an independent inquiry into Greyhound Racing South Australia (GRSA).
The Premier immediately limited the scope of the Inquiry by saying that the "greyhound racing industry has a role to play in our state. He also chose an Inquiry head with strong personal and family connections to the racing industry.
GRSA has responded to the Inquiry in typical fashion, by spending money trying to influence politicians and the public. They have employed a 'specialised team of consultants' to provide 'perspective on the industry'.
But no amount matter of money will obscure how GRSA and the SA government are failing to protect greyhounds. GRSA has no legislative responsibility to the government or the community. This has led to a culture of secrecy and exploitation where commercial considerations always take priority over greyhound welfare.


Your voice is critical
It is essential that we counter the industry's misleading claims and make it clear that:
greyhound racing in South Australia must end as it does not, and cannot, meet community expectations around animal welfare

taxpayer funding of the South Australian greyhound racing industry must end
as a matter of urgency, the SA Government must replace GRSA with an effective and independent regulator of the state's greyhound racing industry.


How can you protect these gentle dogs from more abuse
Please use our template or make your own submission to the GRSA Inquiry. You can also sign the petition demanding the appointment of a lead investigator without links to the racing industry.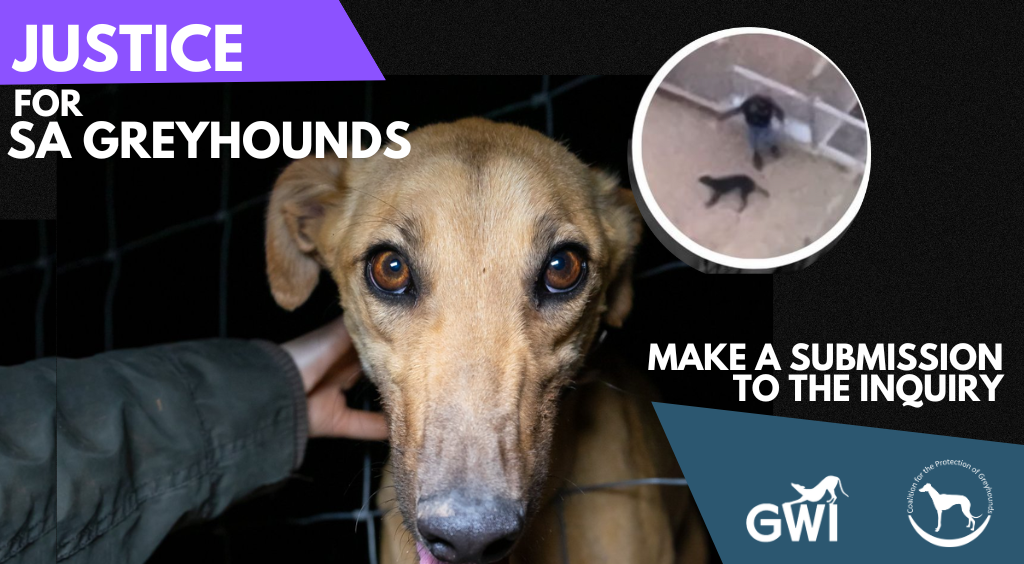 A comprehensive report, produced by CPG, into the failings of the SA greyhound racing industry is available here.  The report highlights GRSA's inability to protect greyhounds and appropriately penalise offenders. This report may be of use if you are planning to make your own submission.