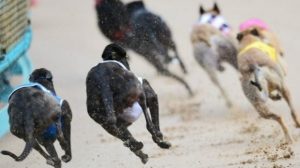 In 2017, the University of Technology Sydney (UTS) released a report titled "Identifying Optimal Greyhound Track Design for Greyhound Safety and Welfare". The report was commissioned by Greyhound Racing NSW (GRNSW). UTS analysed injury data for NSW greyhound racing tracks and used computer simulation and modelling to identify improved track design.
"Approximately 80% of all catastrophic and major injuries were caused by congestion and incidents such as checking, collision and galloping." As a result, the primary recommendation of the UTS Report states, "Clearly the best option is to use only straight tracks."
The UTS also stated that Australian Greyhound Industry should "reconsider their aversion to straight tracks and consider developing purpose-built straight tracks".
Other key recommendations were that the number of greyhounds in each race be reduced from eight to six and that an extended lure be installed at all tracks.
These recommendations have been ignored. Straight track racing is conducted on only three Australian tracks and the proposed $39m track at Ipswich will have two curved tracks and only one straight track.
There has also been a marked lack of action by GRNSW, Greyhound Racing Victoria and Greyhound Racing SA to adopt six dog racing as a standard race field size.
Evidence