State governments pour millions of taxpayer dollars into keeping the brutal greyhound racing industry afloat.
They artificially inflate prize money, pay breeding incentives, prop up financially failing clubs and build unwanted racetracks. And there is very little welfare oversight of the industry that receives all this financial support.
And this is all money that could be spent on fixing roads, healthcare, education, aged care and other areas that are critical to the entire community.
An unreformable industry
The greyhound racing industry continues to be plagued with issues. Lethal racing tracks, breeding thousands more dogs than can be rehomed each year, neglect and abuse, doping, and a lack of transparency. Read the truth about the industry here.
A gambling industry
It is appalling that politicians are so addicted to betting revenue and donations from betting companies that they ignore animal welfare in favour of profit. Read more about the hundreds of millions in taxpayer funding on our money map here.
This is why people across Australia are increasingly mobilising against greyhound racing. This is supported by the results of the first national Australian survey of views on greyhound racing. The survey was commissioned by GREY2K USA Worldwide and CPG and you can read the results here.

State and Territory MPs have the power to stop this. That's why it is critical that animal lovers across Australia demand action from their local MPs.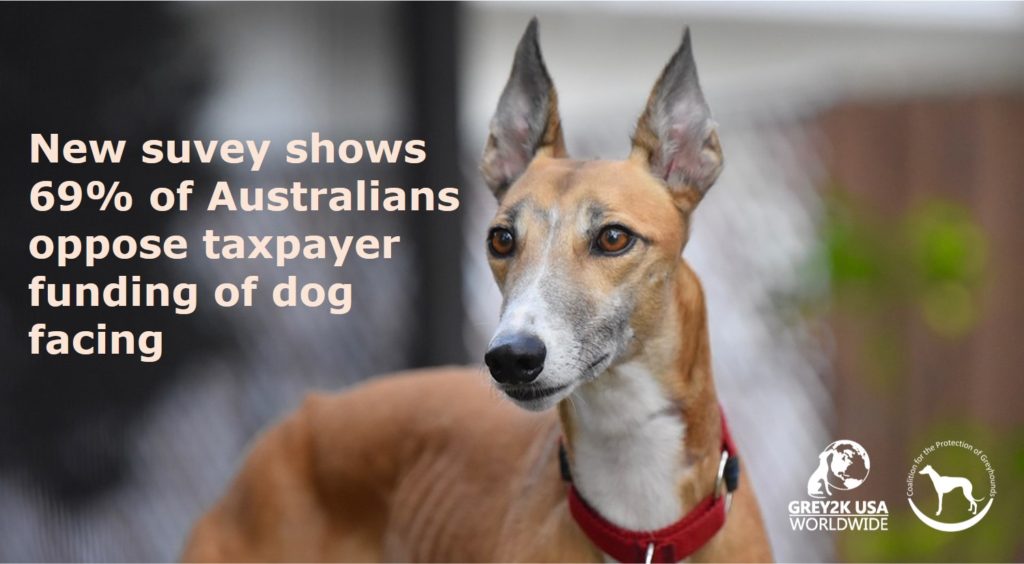 STOP TAXPAYER FUNDING. TAKE ACTION TODAY
You can use our email template, but the most persuasive emails will also tell your own story, and that of your greyhounds.
Please note the email will also be sent to the parliamentary colleagues of your local state MP. You can deselect these additional names by clicking on the "view more" link which will appear after you have selected your local MP.