Brooklyn, the much-loved greyhound of Christine Dorchak and Carey Theil, was the mascot of GREY2K USA. He was famous worldwide as the poster hound and inspiration for the #ClosetheCanidrome campaign. Indeed his survival in the hellhole that was Macau's Canidrome was nothing short of miraculous.
Brooklyn, a charming white, red, and fawn dog, was born in December 2008. GREY2 K USA first spotted him in October 2011 at the Canidrome track, known as "the worst dog track in the world," where he was just a tag number: #111.
Over 400 greyhounds were put to death yearly at the Canidrome for being too slow. The track mainly obtained its greyhounds from Australia, the United Kingdom, and Ireland. Brooklyn, born in Australia and moved to Macau, was the Canidrome's ultimate survivor because he was still there on June 30, 2018, the day it closed. This came after years of vigorous lobbying by GREY2K and numerous foreign animal protection organisations, including the excellent work of ANIMA Macau, which Italians Pet Levrieri and Albano Martins ran.
"Have you seen Brooklyn?"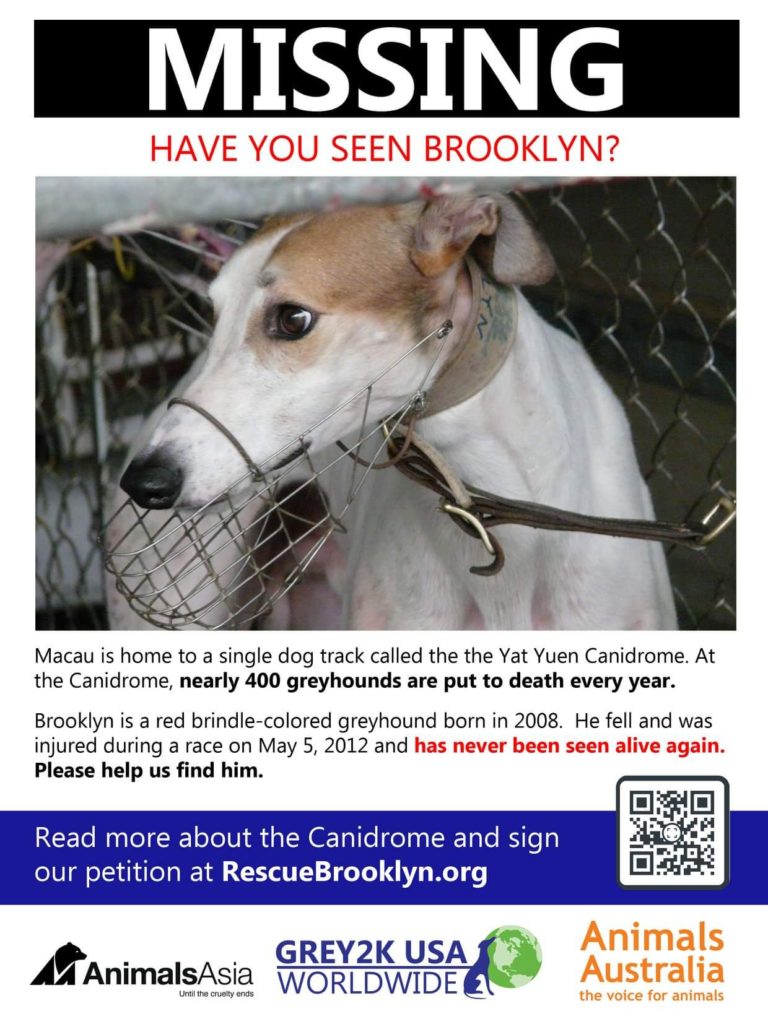 Brooklyn gained the moniker "poster hound" of the cause after having his image appear on "Missing" posters that were displayed all around Macau during the campaign to close the Canidrome and save the greyhounds.
With funding from GREY2K USA, thirty rescue organisations from around the world banded together in September 2018 to begin the enormous process of airlifting the more than 500 remaining greyhounds from Macau to their new homes worldwide. One of those was Brooklyn. Finally, on January 8, 2019, he left Macau.
Brooklyn, who spent over ten of his eleven years at the Canidrome, came to Christine and Carey's house in February 2019. In dramatic contrast to the depressing, gloomy concrete "kennel" he had survived in for ten years, he joined his "sister," Gina, in his new life filled with love and comfort.
Sadly, Brooklyn was given an osteosarcoma diagnosis in his front leg just a few weeks after arriving. The only alternative was amputation, yet Brooklyn survived on three legs. He had a stroke at the beginning of 2020 and began hydrotherapy to regain his strength.
Brooklyn passed away from recurrent osteosarcoma on June 22, 2022. He will be remembered for his tenacity, love, and warmth, which shone through despite his struggles. He won't be forgotten, but he will be missed.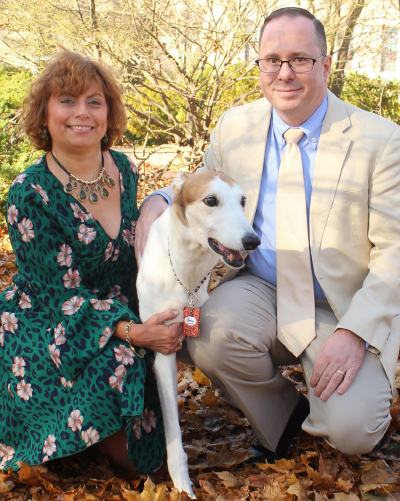 Vale Brooklyn. December 2008 – June 2022. The ultimate rescued greyhound.
Our hearts go out to Christine and Carey who waited years to rescue him.