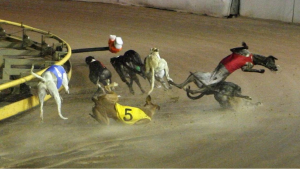 Injuries are very common in greyhound racing causing intense pain, suffering and distress. Serious bone fractures of the leg are the most common injury. Some fractures are communited which is a high velocity injury more commonly associated with car accidents or being shot. Muscle injuries are also very common.
Greyhounds are put under intense pressure when racing and this physical over-exertion causes seizures due to a lack of oxygen, heat-related stress and the collapse of greyhounds post-race. Serious injuries can lead to greyhounds dying on the track or being put to death at the end of the race.
In 2021, 171 dogs were killed on Australian tracks. Many more were removed from the track and later euthanased. Not all states provides details of the fate of these dogs. The majority of these greyhounds fractured a leg during the race which is often a highly treatable injury.  Despite the state Rebate Schemes, none of these greyhounds were considered worth the estimated $4,000 to repair their injury.
Based on racing industry Stewards Reports, CPG estimates that 10,195 greyhounds suffered injuries in 2021. Additionally, the RSPCA reports that "additional injuries will occur during pre-training, training, trialling and non-TAB races, however these statistics are generally not published. It is important to note that injuries may be detected post-race day and these injuries may not be formally recorded."
On-track injuries and deaths have not changed significantly over the past five years and in some cases there has been an increase. For example, there was a sharp rise in NSW greyhound fatalities in the first six months of 2021. 36 greyhounds died on NSW tracks between 1 January and 30 June 2021. 25 greyhounds died in the same period in 2020. This is an increase of 44%.
In its Q1 Injury Report covering Jan-Mar 2021, the NSW Greyhound Welfare and Integrity Commission (GWIC) reported that "The Catastrophic injury rate this quarter is the highest reported since Q1 2019".


Evidence