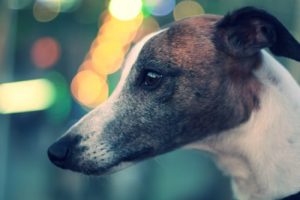 The marketing of  greyhound racing as "family friendly entertainment" is a very cynical and dangerous ploy by the racing industry.
They are actively encouraging the next generation of problem gamblers while exposing young children to the brutality of the racing track. They will do anything to distract people from the reality of the animal abuse inflicted both on and off the track.
The racing industry is also keen to associate itself with charity organisations particularly those that have a high profile in the Australian community. In this way they try to whitewash their association with animal suffering and the human misery caused by gambling.
Below are links to "family friendly" and charity events marketed by the NSW greyhound racing  industry.
31 December 2019 – Dubbo Greyhound Racing NYE Party: "Enjoy a night at the greyhounds with the family!"

Link to promotional poster with family photo; advertises free jumping castle [Facebook]

22 June 2019 – Tamworth Greyhound Club Cup Day ('Family Fun Day')
31 December 2018 – Bathurst Greyhounds NYE Family Meeting


Link to promotional poster

18 December 2018 – Ladbrokes Park Lismore 'Christmas Family Fun Night'


Link to event (family activities, children's show bags)

17 September 2018 – Bathurst Greyhounds Family Fun Day


Link to promotional poster; kids showbags, jumping castle and face painting

15 December 2018 – Wentworth Park Greyhounds 'Family Night'


Link to event description; advertises free showbag for first 200 kids, jumping castle, bucking reindeer, face painting and animal farm

15 June 2018 – Dubbo Greyhound Racing 'Give me 5 for Kids Race Day'


Raising funds for Dubbo Base Hospital Race Ward; advertises jumping castle, mini sports area
Link to event

15 December 2017 – Richmond Race Club Community Christmas Party


Link to event; free entry for kids; face painting, rides & gifts for kids

31 December 2016 – Richmond Race Club NYE Party


Link to event; 'Great Fun for the kids with loads of games, Jumping Castles, Fairy Floss, Live Music'

Wagga & District Greyhound Racing Club's Facebook page cover photo depicts kids / families playing next to the track (link)
Photo from GRNSW 2018 Annual Report depicting young child with greyhound [p. 15] (link)
Bulli Greyhounds venue (link), Gunnedah Greyhounds (link), Maitland Greyhounds (link) (operated by Greyhound Breeders, Owners and Trainers Association NSW) are marketed as a 'perfect venue' for charitable /fundraising events and runs fundraising race nights.