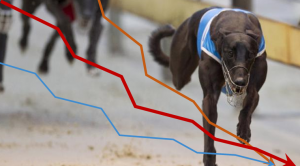 IBISWorld is a company that provides independent and up to date research for over 500 industries including Australia's top 2000 companies. In its 2017 annual report, IBISWorld described the Horse and Dog Racing industry as being in the declining stage of its economic lifecycle.
Continuing this trend, IBISWorld states in an excerpt from its Horse and Dog Racing industry outlook (2019-2024) that, "The Horse and Dog Racing industry is forecast to continue declining over the next five years. Race day attendances are projected to continue decreasing over the period. Increasing animal welfare concerns and growing competition from other events and media are projected to drive the industry's decline. In addition, per capita gambling expenditure is anticipated to fall over the next five years, further limiting the industry's performance."
Another indication that the industry is failing economically is the government support required to keep the industry viable. In NSW, this extended to the Government artificially inflating the prize money for the "richest race in the world", the Million Dollar Chase, with $500,000 of taxpayers' money.
This financial lifeline is most in evidence in the three biggest industries in Australia – NSW, Victoria, and Queensland.
In 2017, after the backflip on the greyhound racing ban, the NSW Government committed to spending $40 million on the industry.
Since November 2014, the Victorian Labor Government has provided $11.5 million in grants to the greyhound racing industry through the Victorian Racing Industry Fund.
As reported in the Queensland Budget 2019-2020, Budget Measures, "the Government is providing additional funding of $131.1 million over five years for Racing Queensland to increase prize money and support initiatives for the racing industries, including $119.1 million for the Queensland thoroughbred racing industry and $12 million for the greyhound and harness racing codes."
The Queensland Government is also planning to build a new $39 million dollar greyhound racing track in Ipswich. There is widespread community resistance to the new track with a petition to the Queensland Government gathering 50,000 signatures. In 2017, after a five-year campaign led by Animal Liberation Queensland, plans for a greyhound track at Logan were scrapped.
Evidence