The map below follows the money trail direct from government to the gambling industry and back again. Australian state governments artificially inflate prize money, pay breeding incentives, prop up financially failing clubs and build unwanted racetracks. And there is very little welfare oversight of the industry that receives all this financial support.
And what's the reason for this massive investment?
Gambling.

Australians lost $24 billion in FY2017/18 with around $7 billion wagered on greyhound racing in FY19/20. That's an enormous amount of gambling tax flowing into state government treasuries. But it's nothing compared to the cost in terms of animal suffering and human misery.
Click on the dollar amount for more funding information. Following the map is a .pdf that includes links to source material.
Blood money
Click on the dollar amount for more information on how state governments pour millions of taxpayer dollars into keeping the brutal greyhound racing industry afloat. Where government funding is shared across racing codes, this is indicated in brackets: Greyhound (G), Harness (H) and Thoroughbred (T).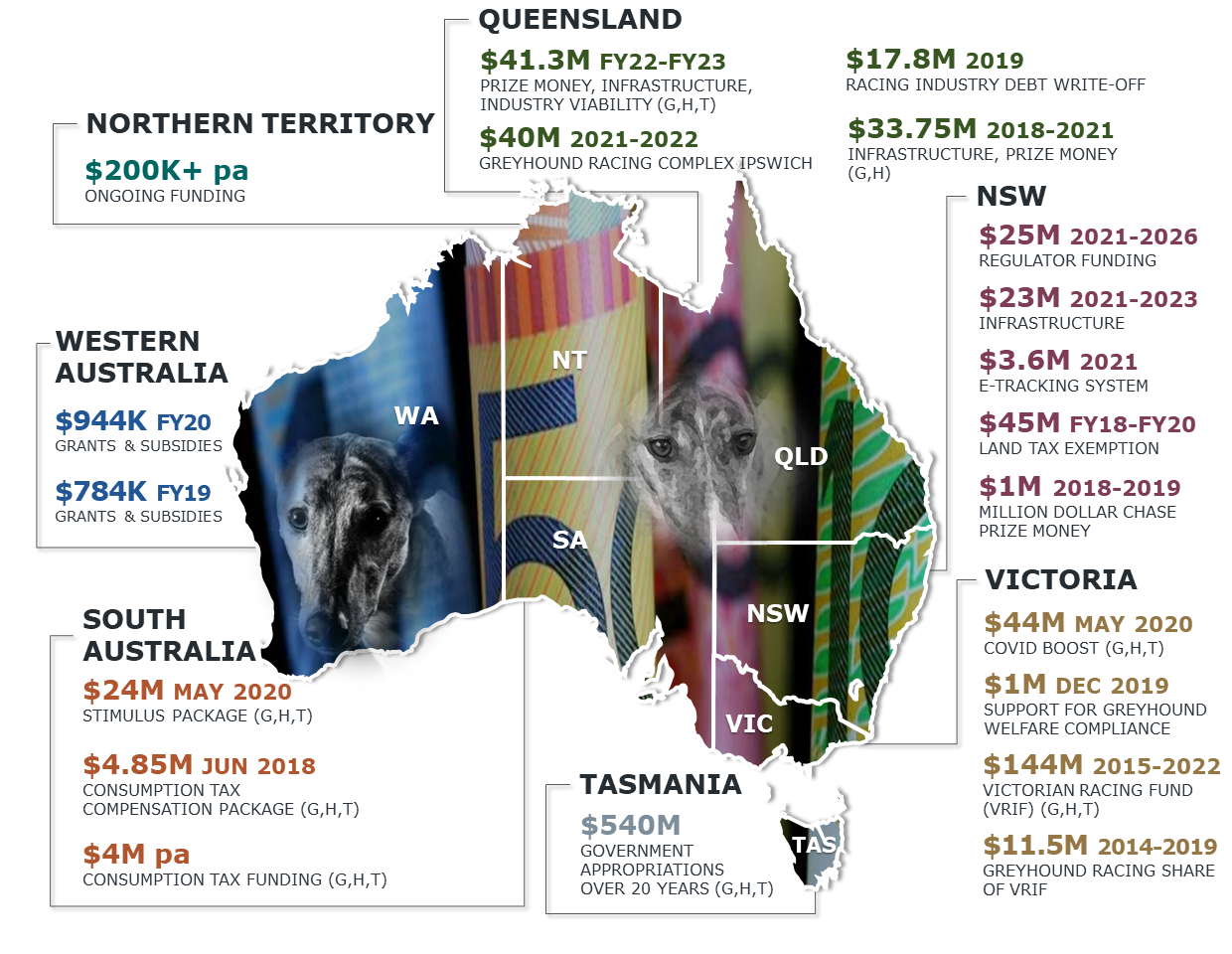 An unviable industry
The Queensland Government is funding Racing Queensland with $41.3M over FY22-FY23. This represents 35% of the Point of Consumption Tax (POCT) paid to the government by wagering operators. As such the amount is subject to wagering performance and is variable.
The investment is spread across the three racing codes as follows: Thoroughbreds 64.3%; Greyhounds 17.3%; Harness 12.6%. This funding is in addition to the $35.2 million from the Country Racing Program and the prize money and infrastructure allocation which commenced in January 2021.
The report states that $12 million of the POCT funding will be used for programs including "industry viability funding" for greyhound and harness racing. This is yet another acknowledgement that racing, particularly greyhound and harness, are financially unsustainable and rely on government handouts.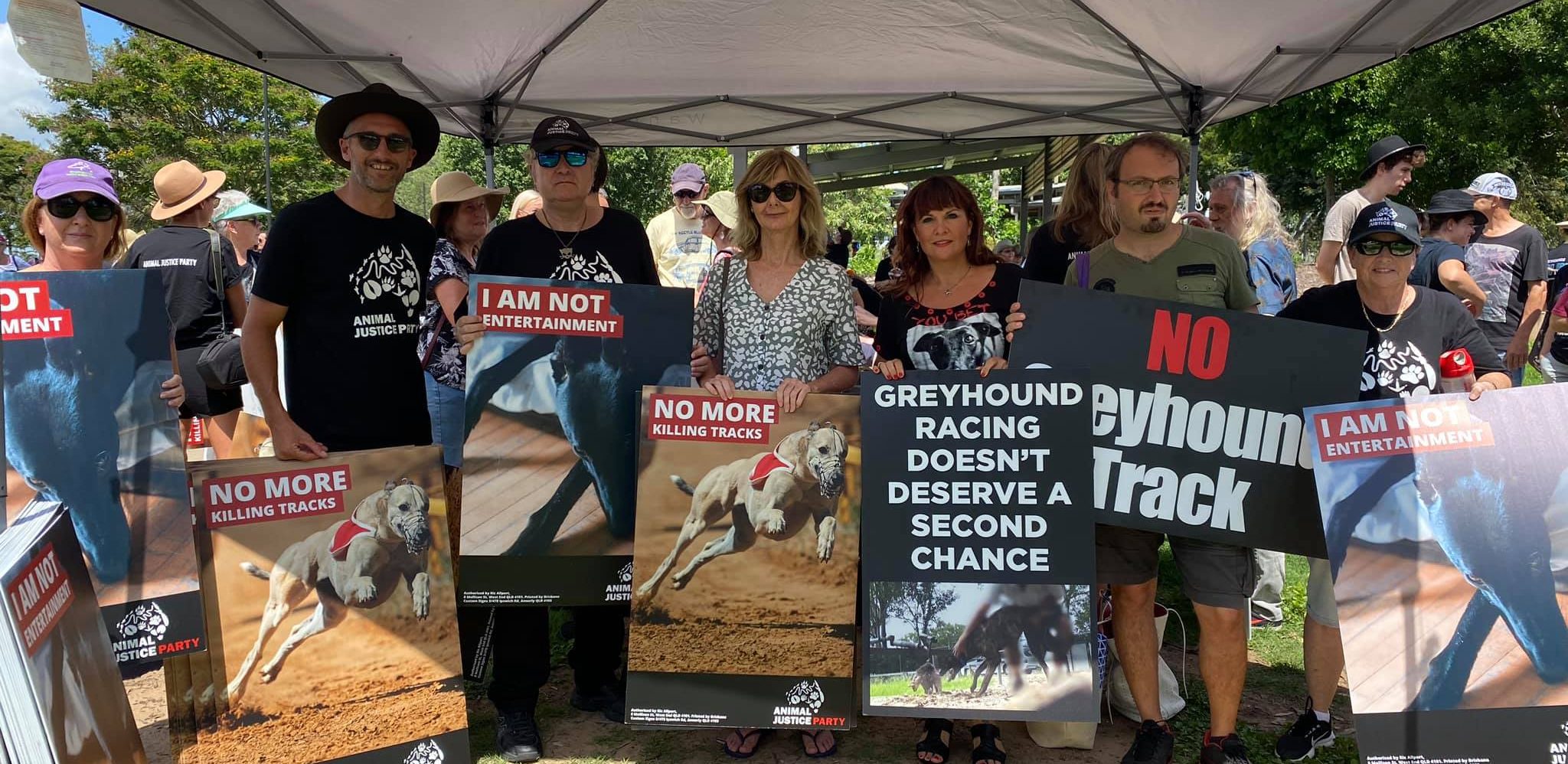 Ipswich Racetrack
The Queensland Government will provide $40m for a greyhound racing complex at Yamanto. The facility will have two curved tracks despite extensive research by the University of Technology, Sydney showing that most deaths occur at track turns.
Read more in CPG's "The Case for Straight Tracks"
In 2017, after a five-year campaign led by Animal Liberation Queensland, plans for a greyhound track at Logan were scrapped.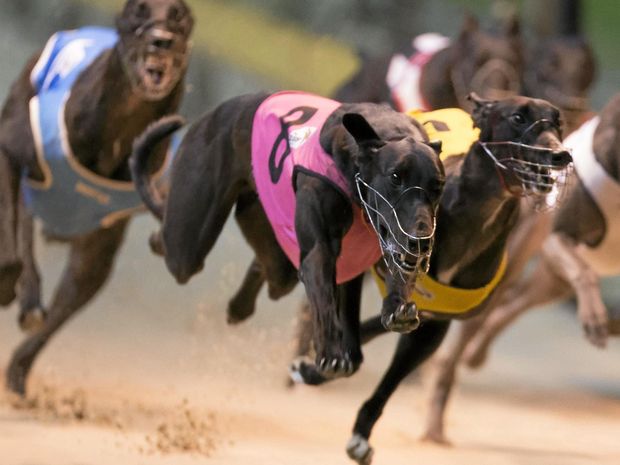 Debt write-off
In late 2018, Racing Queensland Chairman Steve Wilson AM said, "Despite increasing returns to participants by $15.2 million over the past two years RQ remains a loss-making organisation."
In 2019, the Qld State Government took further steps to prop up the industry with a $17.8 million debt write-off. This represented 50% of historical debt owed to the Government. The Government also made a one-off payment of $20 million to be invested in new greyhound and harness racing facilities.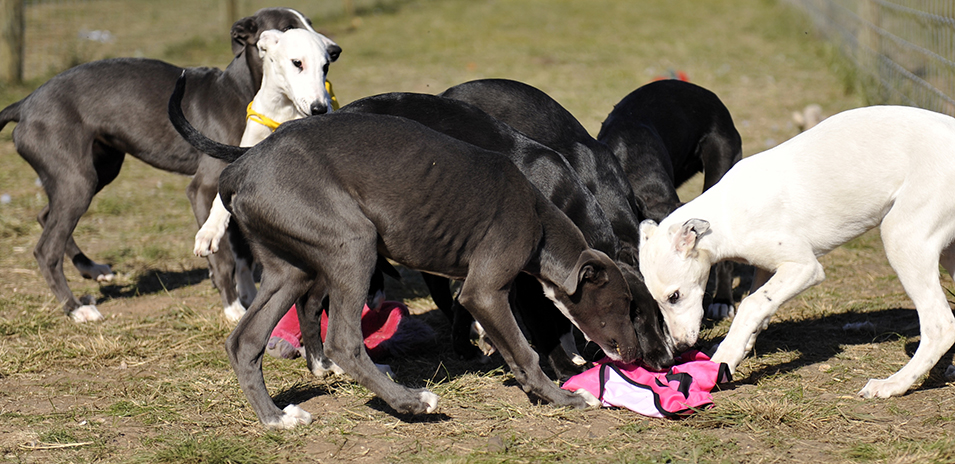 Encouraging 'wastage'
Around 40% of the 11,000 greyhounds bred in Australia each year are surplus to requirements. The industry calls them 'initial wastage' and they are discarded much like a losing lottery ticket.
This overbreeding is encouraged by breeding incentive schemes and prize money inflated by state governments.
In the Racing Queensland 2018/2019 Annual Report, Steve Wilson, the RQ Chair talked of how "through the Queensland Government, the racing industry was able to prosper through a number of funding commitments". This included a one-off payment of $20 million for investment in greyhound and harness racing, with $12 million applied to infrastructure and $8 million to prize money.
The Qld Government continued to artificially inflate prize money with a further $13.75 million provided to greyhound and harness racing between 2019 and 2021.
Regulator funding
In June 2021, the NSW racing minister Kevin Anderson announced $25 million for a new funding model that will see the Greyhound Welfare and Integrity Commission funded by the NSW government for the next five years. According to the minister this will free up millions of dollars which can be reinvested in facilities and prizemoney.
Deadly tracks
In 2017 the NSW Government committed $30 million to the greyhound racing industry to support improved track safety. In 2021, Greyhound Racing NSW chief executive Tony Mestrov announced GRNSW had secured $23 million in government funding for the next three years for track infrastructure.
Also in 2017, the NSW Government commissioned a report titled "Identifying Optimal Greyhound Track Design for Greyhound Safety and Welfare" produced by the University of Technology, Sydney (UTS).
The primary recommendation of the UTS report stated, "Clearly the best option is to use only straight tracks."
Other key recommendations were that the number of greyhounds in each race be reduced from eight to six and that an extended lure be installed at all tracks.
For all the talk of improved track safety and the millions of taxpayer dollars poured into upgrade work, these recommendations have been ignored.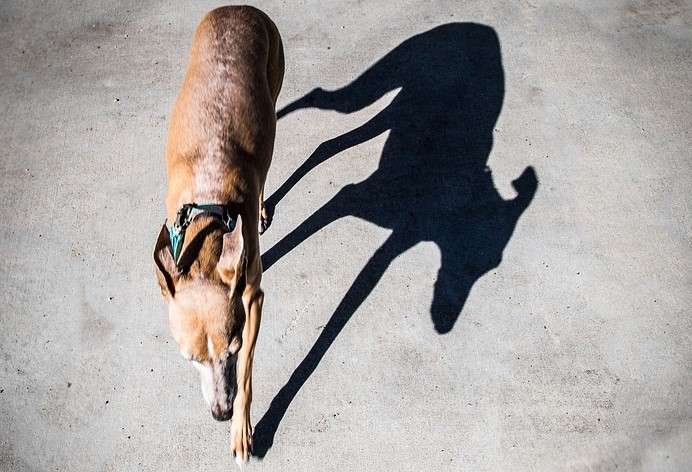 Missing, feared killed
In February 2021 racing minister Kevin Anderson announced a $3.6 million investment into an electronic tracking system to protect greyhounds from unnecessary euthanasia.
However, greyhounds are only tracked from "birth to de-registration" which does not reflect the greyhound lifecycle which extends from birth, through retirement, to death.
A major point of vulnerability for greyhounds is when they are retired and removed from the NSW racing register. At this point, owners can sell or give, their dogs to a third party as a companion animal. At this point greyhounds are written off the racing industry's books and can potentially be potentially killed.
In May 2021 a Bill was introduced by Greens NSW which will allow genuine whole-of-life tracking from birth to death of all greyhounds that have been involved in the racing industry.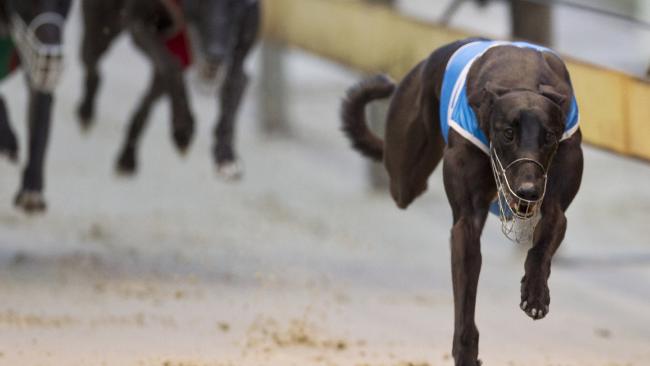 The Million Dollar Chase
In both 2018 and 2019, the NSW government artificially inflated the prize money for the "richest greyhound race in the world", the Million Dollar Chase, with $500,000 of taxpayers' money.
Providing more evidence of the corruption and abuse throughout the industry, the 2019 Million Dollar Chase consolation winner Nangar Jack tested positive for doping with EPO. In addition, and according to Humane Society International, one of the race conditions was that the winning greyhound must not be killed by its owner.
Gambling wins big with COVID boost
With their COVID-19 survival package, the Victorian Government prioritised gambling and animal exploitation over sport, culture and tourism.
The Victorian racing industry received $44 million, the largest slice of the $150 million taxpayer-funded pie.
Support for new code
On 1 January 2020, a new Code of Practice for the Keeping of Racing Greyhounds came into effect in Victoria. The code sets minimum welfare standards for the operation of greyhound establishments.
The Victorian Government gave $1 million to the racing industry to help participants comply with the Code.
Earlier in November 2019, three greyhound trainers were suspended for baiting their dogs with live possums, throwing the sport's Victorian racing industry into another crisis. Reportedly the possums were used to incite the greyhounds' chase instinct, initiating a new live-baiting scandal.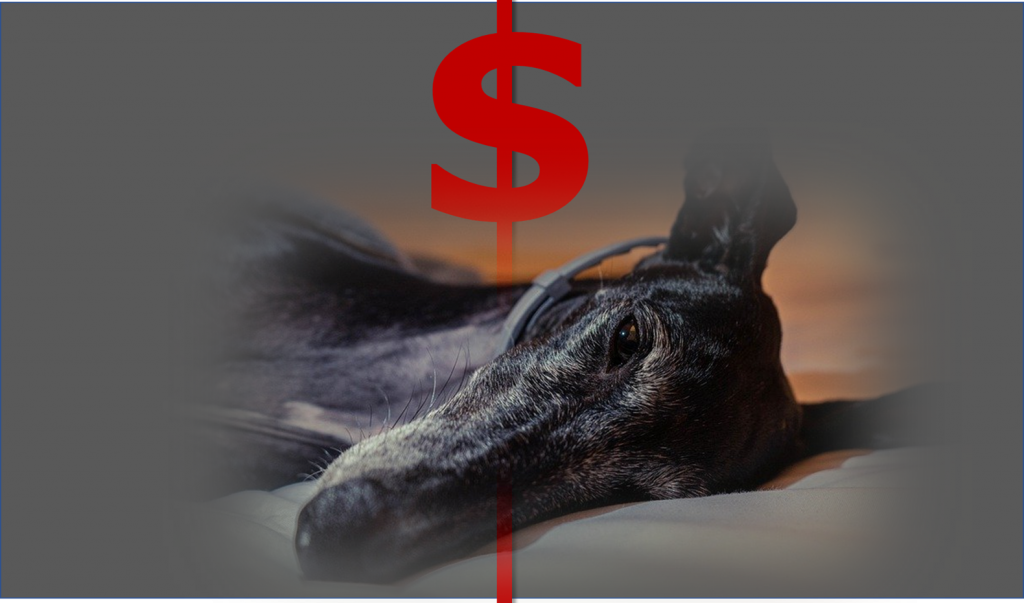 Gambling and the Government
The Victorian Government has given approximately $340 million of taxpayer dollars to the racing industry since funding commenced in 2001.
In 2001, the Victorian Government compensated the racing industry for income lost as a result of a levy on gaming machine profits. The racing industry received a share of gaming machine profits from its joint venture with Tabcorp.
This investment in the gambling industry continued over the next 20 years through a variety of taxpayer funded grants and one-off payments.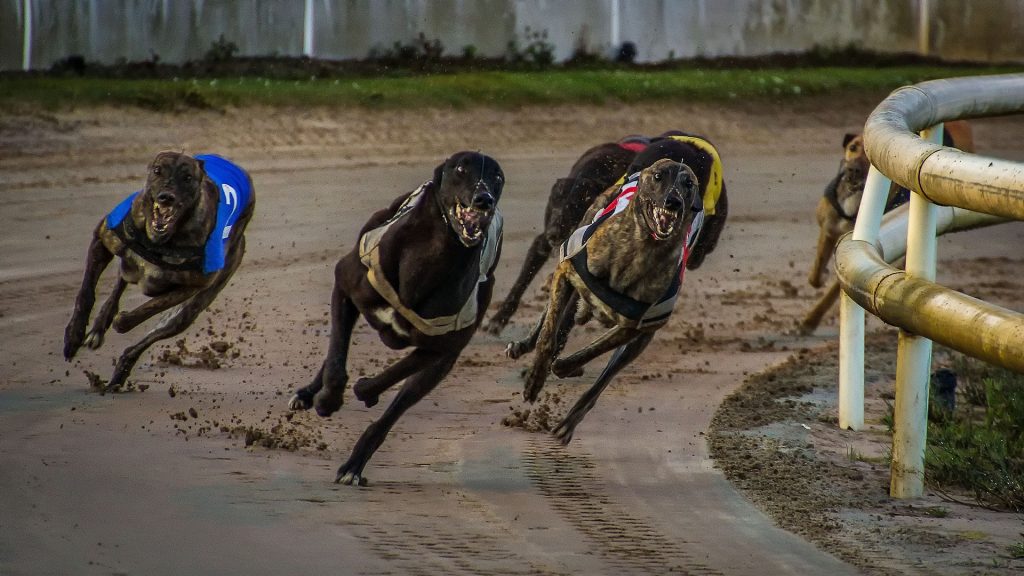 The most lethal tracks in Australia
In 2018, the Labor Government in Victoria announced they would invest $4 million in the greyhound racing industry if they were re-elected.
This included $1 million for track upgrades. As at 31 July 2020, Victoria's tracks were the deadliest in Australia with 50 greyhounds killed and 2,083 injured.
Between November 2014 and December 2019, the Labor Government has provided $11.5 million in grants to the greyhound racing industry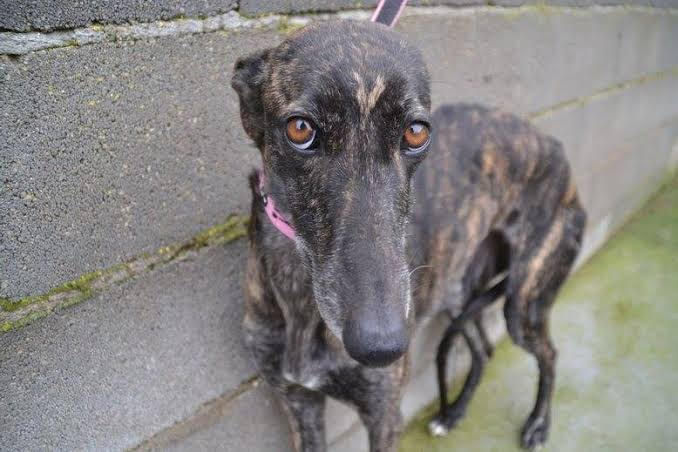 A loss making industry
In 2020, the Tasmanian Government announced contributing $8m to new greyhound and harness racing facilities in North West Tasmania.
Tasracing is primarily funded by the Tasmanian Government receiving a minimum of $27 million a year. This is part of a 20 year contract agreed between the two bodies in 2009.
A 2010 Government inquiry into the performance of Tasracing highlighted numerous issues with the funding agreement including that: "The ongoing indexed $27 million funding model fails to tie funding to performance and is irrespective of revenue earned."
Tasracing reported a profit of $0.2m in 2016. This was its first profit since its inception in 2009.
Tasracing reported a loss of $3.92 million over the 2019/2020 financial year and $2.37 million over the 2018/2019 financial year.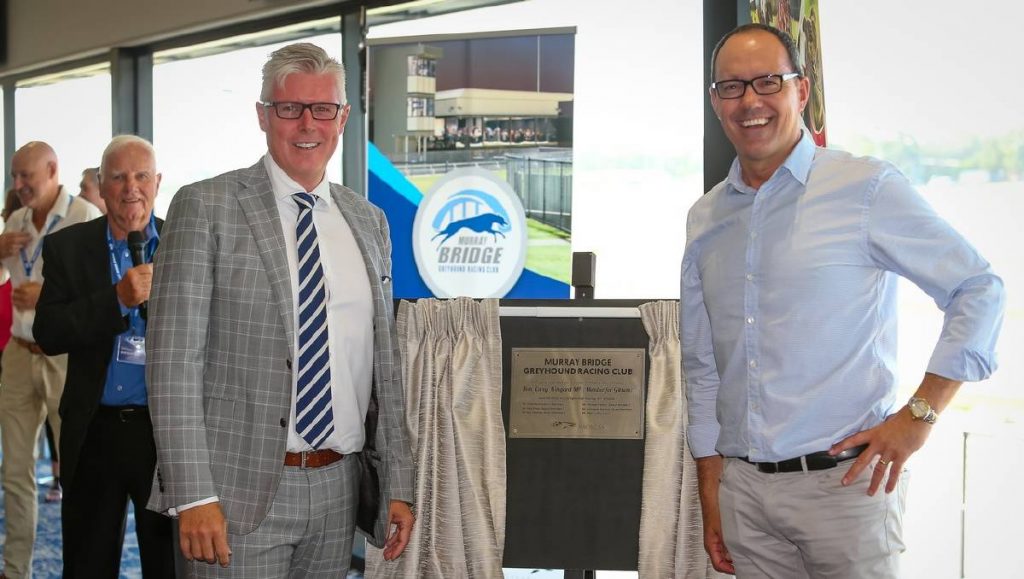 Greyhound Racing SA chairman Grantley Stevens and SA Racing Minister Corey Wingard at the opening of the Murray Bridge track in July 2019 which saw the death of a greyhound. (Photo: Greyhound Racing SA)
SA Racing claims its "clean"
Unlike other states which responded to the 2015 NSW live baiting scandal with comprehensive inquiries into the industry, the SA Government have refused to support an independent inquiry.
In June 2019, Racing Minister Corey Wingard delivered a $24 million package to the SA racing industry. The Minister spoke of the important work of the racing industry and how the Government would help to strengthen the viability of its business model. This is despite the Government having minimal oversight into the welfare of animals involved in the racing industry.
Taxpayers compensating the racing industry
In 2018, the SA Government introduced Australia's first Point of Consumption Tax (POC Tax) on wagering operators. Throughout 2018, Queensland, Victoria, NSW, WA and the ACT followed suit. NT has expressed opposition to the tax and Tasmania has not made its position known.
Under the POC Tax, betting operators are required to pay tax on revenue generated from the state in which bets are placed, rather than from the state in which the operator is licensed.
The introduction of the POC Tax has resulted in upheaval in SA with the racing industry saying they have been adversely affected. In June 2018, the Government granted a $4.85 million compensation payment to the SA racing industry.
This is not a self-funded industry
Claims that greyhound racing is self-funded are simply not true.
For example, the WA racing industry including greyhound racing is funded primarily via profits made by the Government-owned WA TAB. This is supplemented by income generated via the race bets levy paid by national wagering operators and proceeds from the point of consumption wagering tax.
In addition, the WA funded the greyhound racing industry with grants and subsidies of $944,440 in FY20 and $784,330 in FY19.
Investigation into Darwin Greyhound Association
According to an ABC online article of 20 June 2020, "The NT Racing Commission has launched an investigation into the Darwin Greyhound Association following a series of allegations made by current and former members and trainers.
"An independent legal firm has been appointed by the NT Racing Commission to investigate the association, which receives hundreds of thousands of dollars a year from the NT Government, operates the NT's only registered greyhound track at Winnellie, where weekly races are broadcast live on Sky Racing."
Land Tax Exemption
The NSW Government grants a land tax exemption for land owned by or held in trust for any club for promoting or controlling horse racing, trotting or greyhound racing which is used primarily for the purposes of their meetings. This amounted to $45 million over three years from 2017 to 2020.
This information was sourced from publicly available material and is correct to the best of our knowledge. Click here to view additional information including links to source material.
Our thanks to Animals Australia for their Greyhound Racing Money Trail infographic of 2017 which inspired us to create this money map.